Welcome to Our Wedding Cake Wonderland
At HoneyLoveCakery, we believe your wedding cake should be as enchanting as your love story. Our Wedding Cakes Gallery is a testament to the passion and creativity that we pour into every bespoke creation. From classic elegance to contemporary chic, each cake is a piece of art, crafted to be the centerpiece of your special day.
Explore Our Collection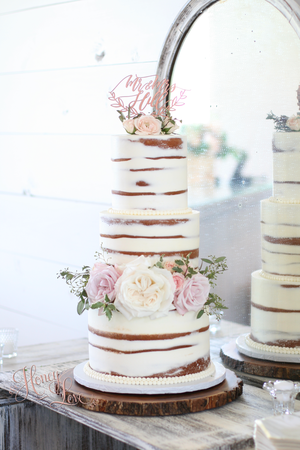 As you browse through our gallery, you'll discover a diverse array of designs that speak to every theme, color palette, and aesthetic. Whether you're dreaming of a multi-tiered masterpiece adorned with hand-crafted sugar flowers or a minimalist design that exudes sophisticated simplicity, our gallery showcases the endless possibilities.
Custom Creations Just for You
While our gallery is here to inspire you, we thrive on making unique creations that reflect your personal taste and style. Each cake in our gallery represents a couple's story, and we're excited to be part of yours. We invite you to imagine the possibilities as you view the lovingly crafted details in each design.
Begin Your Story With Us
Ready to take the next step? Visit our Booking Your Wedding Cake page to learn how to reserve your date with HoneyLoveCakery. Your dream cake awaits, and we can't wait to craft it into reality.
Share the Love
Found something that captures your heart? Let us know! We're here to discuss how we can tailor that inspiration to celebrate your union. Remember, the cake you choose will not only look spectacular but taste divine, leaving a lasting impression on you and your guests.
Thank you for considering HoneyLoveCakery for your wedding day. We promise to make it sweeter, one slice at a time.